27 July 2023 |
News category
BACnet/SC: Secure data communication for buildings
Property owners and IT managers have one concern in common: OT communication in the building network should be safe from attacks. With the addition of BACnet/SC ("secure connect") this problem is solved. By utilising a BACnet/SC router SAUTER can integrate existing networks and a BACnet/SC-capable building and energy management system.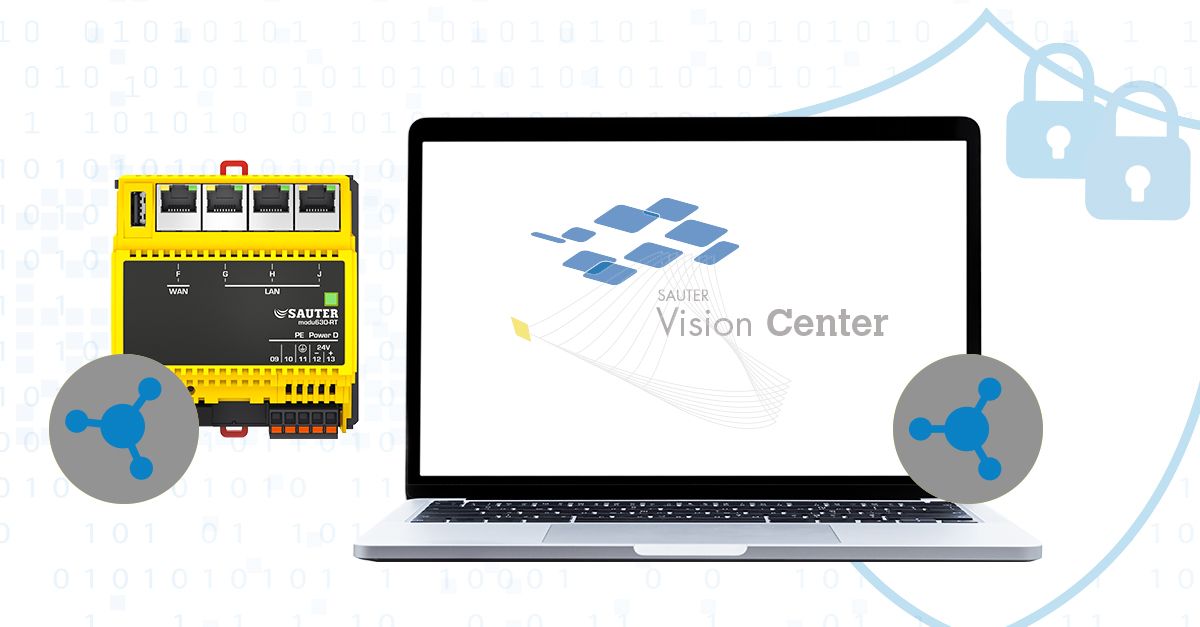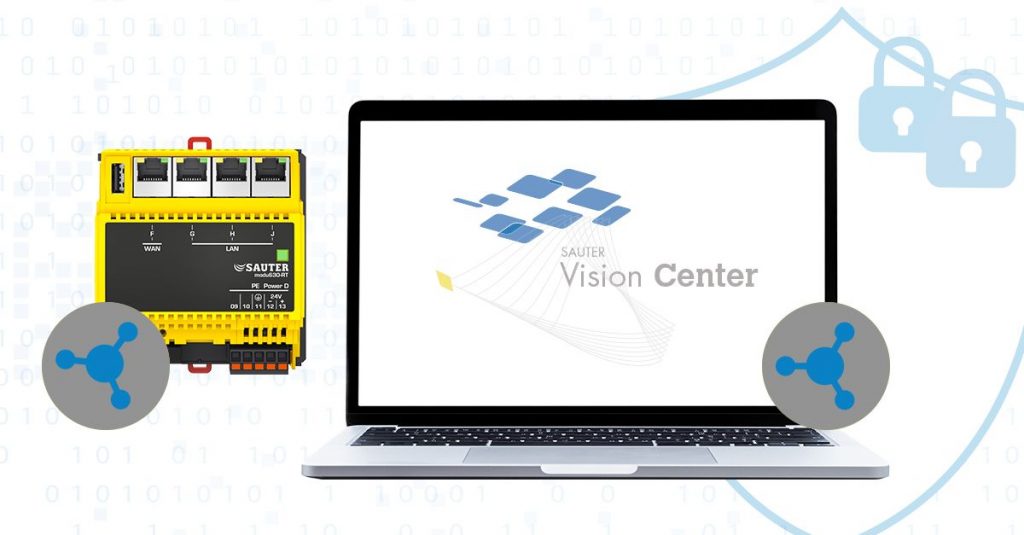 The latest addition to the BACnet standard combines security aspects with new possibilities for data exchange. This has a significant impact on building automation, as BACnet/SC paves the way for using existing IT networks.
SAUTER Vision Center (SVC) is already designed to fit the new security standard – even in the cloud. In the hub-and-spoke principle of the BACnet/SC network, SVC can assume the role of primary hub. The hub is the central element of the network and configures and controls all communication of the encrypted BACnet objects.
The SAUTER Vision Services cloud solution provides a cost-conscious entry into the world of modern building management, as the cloud provider bears the maintenance costs for hardware and software. Furthermore, updates are available immediately and automatically.
In addition to BACnet/SC-capable software, SAUTER also offers the new BACnet/SC router (modu630-RT) as hardware for expanding existing BACnet installations to include encrypted communication. The BACnet/SC router can be used both as a BACnet/SC primary hub and as a BACnet/SC failover hub.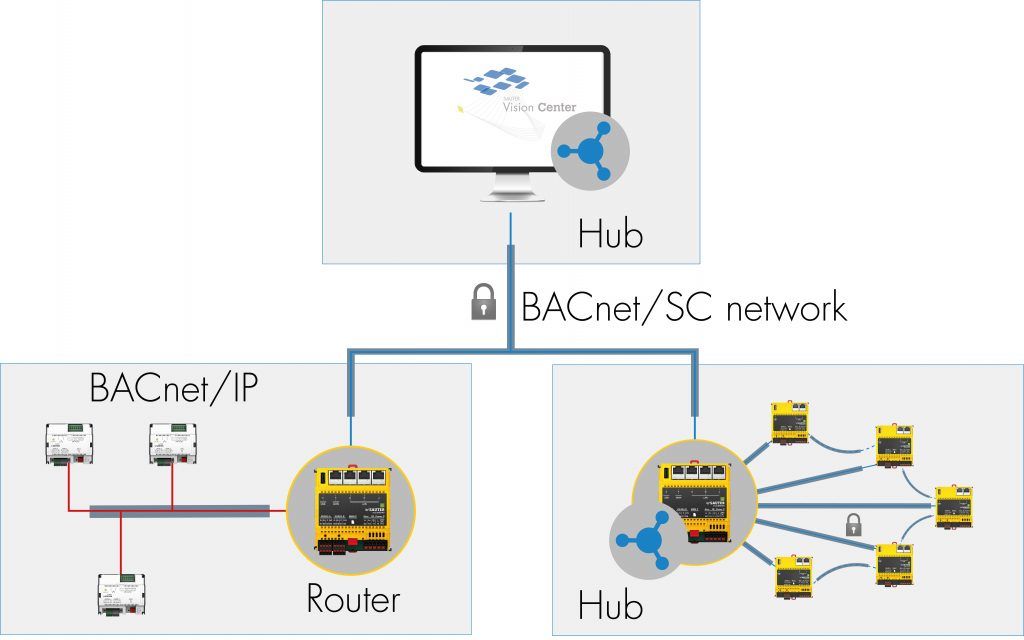 Moving to BACnet/SC
The demand for secure communication is huge and the answer in building automation is BACnet/SC. We support integrators and operators throughout the entire handling process of a project, from planning and engineering to commissioning and maintenance. Existing BACnet/IP systems can be upgraded to BACnet/SC gradually and flexibly as required. Where SAUTER Vision Center is already installed, an extended licence makes the changeover straightforward.
The tried-and-tested SAUTER CASE Suite is used to configure the BACnet/SC router and the encrypted communication in existing IT networks. The router will be available from Summer 2023. For more information get in touch with our sales department.
Our commitment
Being a member of the BACnet Interest Group Europe (BIG-EU), SAUTER is actively involved in how it develops further. Our company has expert representatives in various international BIG-EU working groups. The aim of this community is to promote the standard, to enable the public exchange of data and ensure compatibility between building automation components. Constructive feedback from users and implementers is continually reviewed and incorporated as the standard is developed further.
Find more information about BACnet/SC on our BACnet/SC website.
About SAUTER
As the leading provider of solutions for building automation technology in Green Buildings, SAUTER ensures good climate conditions and a sense of well-being in sustainable environments. SAUTER is a specialist in developing, producing and marketing products and systems for energy-efficient total solutions and offers a comprehensive range of services to ensure the energy-optimised operation of buildings. Our products, solutions and services enable high energy efficiency throughout the entire life-cycle of a building – from planning and construction through to operation – in office and administrative buildings, research and educational facilities, hospitals, industrial buildings and laboratories, airports, leisure facilities, hotels and data centres. With over 100 years' experience and a track record of technological expertise, SAUTER is a proven system integrator that stands for continuous innovation and Swiss quality. SAUTER provides users and operators with an overview of energy flows and consumption, and therefore of the development of the costs involved.
The SAUTER Group
Company active worldwide with headquarters in Basel, Switzerland
Founded in 1910, it is built on more than 100 years of tradition and experience
With more than 3,300 employees, it is present and active globally
Complete building management solutions from a single source
Focus: maximum energy efficiency and sustainability
Investment protection and operational reliability over the entire building life-cycle
Technology leader in the building automation and system integration sector