Intelligent building automation from SAUTER
Building automation is an important part of technical Facility Management. The automatic control and optimization of a building is as much a part of building automation as monitoring and regulation. Buildings offer space for working, living, learning, producing, selling, enjoying oneself, etc. Depending on their use, users have different requirements for heating, cooling, conditioned air and lighting. Here, intelligent building automation from SAUTER ensures an optimum indoor climate depending on the respective use. A comfortable indoor climate means the well-being and productivity of the users or occupants.
Building automation is the brain of a building. Accordingly, the heating, ventilation and air conditioning systems act as the heart of a building. They provide the energy depending on the demand and the desired room conditions. This energy is distributed via the heat carriers air and water. In this context, SAUTER's HVAC controllers are the intelligence of the system technology and ensure energy-efficient operation of the systems.
We achieve maximum comfort with minimum energy input with demand-driven operation. This is ensured by communicative room automation via the protocol BACnet communication standard. This leads to reduced operating costs and is essential for good results in Green-Building-Certifications.
Suitable systems for every size of installation
Sauter is a manufacturer of intelligent building automation Bus systems. Our portfolio ranges from simple standard HVAC solutions to complex individual solutions. For small and medium-sized installations, we recommend the use of configurable controllers from the SAUTER flexotron and SAUTER equitherm product families. Universal and freely programmable, automation stations from the modulo 5 and modulo 6 system families can be used for installations of all kinds.
With over 100 years of experience, SAUTER is one of the companies that can offer you competent and solution-oriented advice on HVAC systems.
Comprehensive solution libraries
With the SAUTER CASE Suite software, we have a solution library with functions for project-specific implementation of the EN 15232 standard (energy efficiency of buildings) and the VDI 3813 "Room automation functions" and VDI 3814 "Building automation" directives. Our libraries are equipped for all control engineering tasks and provide the basis for the energy-efficient operation of any type of installation.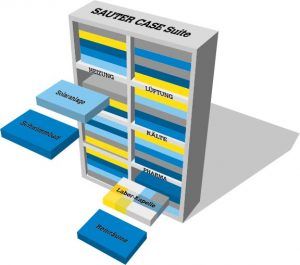 Products
Flexible and efficient building management requires a full overview and comprehensive control. SAUTER's software solutions for management and visualisation make it easier to control and monitor the individual components of building and room automation, and are a prerequisite for energy-efficient building management.
SAUTER Vision Center
SAUTER Vision Center is the control centre and simultaneously the supervision solution for preparing all the data from installations, buildings and dispersed premises. Thus, this web-based building and energy management solution (BEMS) provides functions for room management and energy monitoring, as well as immediate higher-level information views (dashboards) with the most important key figures (KPIs) and the related diagrams.
Here you will find more information on SAUTER Vision Center.

SAUTER EMS
SAUTER EMS (Energy Management Solution) is a professional energy management solution for buildings that can be used as a system solution both from the cloud and when locally installed. It enables the central management of the most important key figures of your installations and buildings. And with the EMS Mobile energy management module, you can also monitor and optimise energy efficiency via tablet or smartphone.
SAUTER EMS is the ideal tool for the energy analysis of your buildings and plants and enables effective energy optimisation. SAUTER EMS also supplies you with benchmarks for key figures from similar properties. The measurement data is analysed and displayed via standardised reports or via the web portal integrated into the SAUTER EMS server, and via EMS Mobile. With this web portal and EMS Mobile you have an overview of all the relevant energy data.
Find out more about SAUTER EMS here.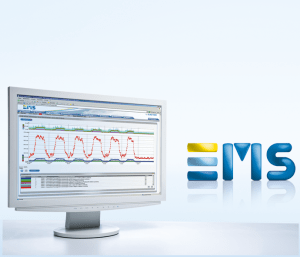 ecos 504/505
The ecos room automation family contributes significantly to integrated, safe room automation and thus also to an optimal room climate.
More information about SAUTER room automation can be found here.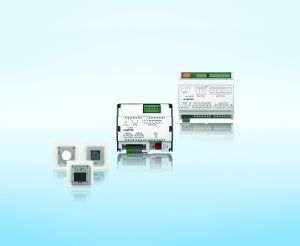 SAUTER moduWeb Vision
SAUTER moduWeb Vision is the comprehensive visualisation and operating system for permanently monitoring all your installations. If malfunctions occur, the unit automatically sends alarms and event messages by SMS or e-mail to predefined persons. Thanks to the embedded web technology, you are independent of the waiting cycles of conventional operating systems and standard computer technology.
Learn more about SAUTER moduWeb Vision.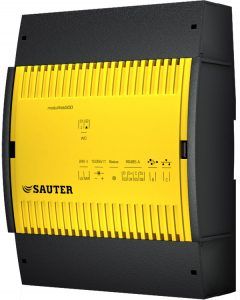 modulo 6
Previously unattainable performance is made possible by modulo 6 in terms of data points per automation station, memory space and processing speed. And this is achieved while taking up a minimum amount of space in the cabinet. The design and flexibility of the modulo 6 modules allow the provision of customised performance at optimised overall costs. From single-room control to a networked, globally distributed building cluster.
More information about modulo 6 can be found here.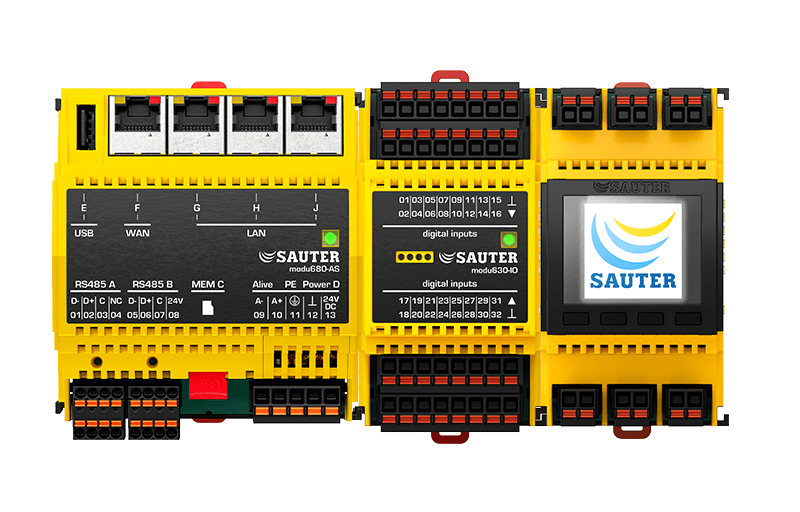 Smart Actuator
The SAUTER Smart Actuator combines flexibility with predictive maintenance. The IoT-capable Smart Actuator represents the digital transformation with field devices in building technology. Among other things, the user benefits from shorter project durations and lower overall costs for plant construction and commissioning.
Would you like to know more? More information about the Smart Actuator can be found here.