Intelligent building management means meeting the new user requirements for networking and comfort. The classic functions of room and building automation are extended by functions for the efficient management of space, tracking of assets and / or persons and offer the user a previously unattained experience.
With our IoT demo floor "SAUTER Smart Spaces" at our company headquarters in Freiburg im Breisgau, we have created a showroom area where innovations can be developed, tested and presented.
The main focus is on IoT sensor technology and its integration into the SAUTER building automation system. At a management and operating level, SAUTER Vision Center offers every user group access to information via smartphone app, web interface or touch panel.
In our "SAUTER Smart Spaces", you can experience our latest and digitised products, numerous IoT, app and cloud solutions as well as innovative new services.
Read more in our magazine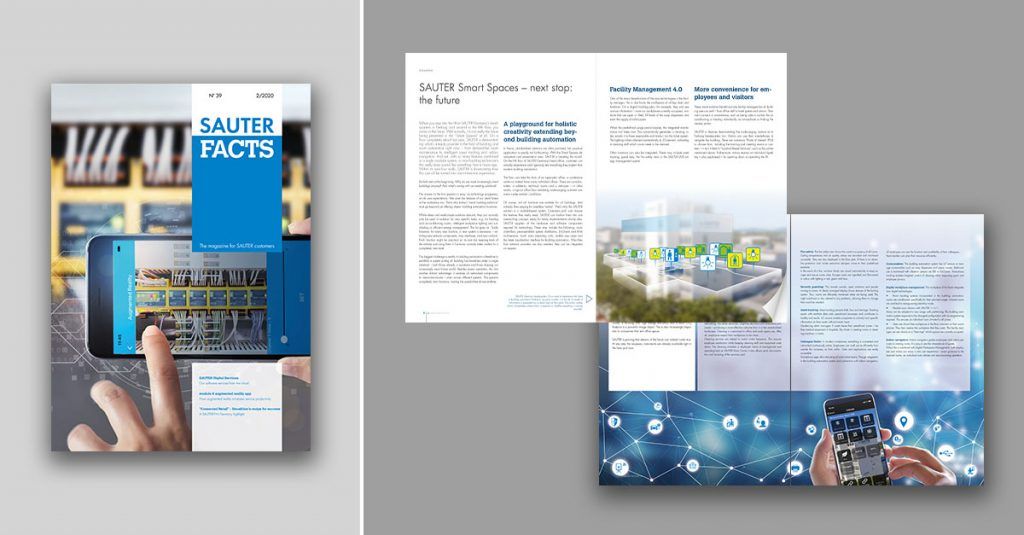 Click through the applications
Indoor climate
While one employee is pleased that the office is cool, another wraps a scarf tighter around their neck. Someone gets a headache from bright light, while another person needs more light. Another likes to look outside to find inspiration, while their colleague needs peace and glare-free light to concentrate on their work. A pleasant indoor climate for everyone is made up of many factors.
The flexibility of SAUTER room automation creates optimum conditions for every room. Whether office building, hotel, hospital, shopping centre, school or museum: SAUTER adapts room automation individually to the use of space by each customer and each construction project.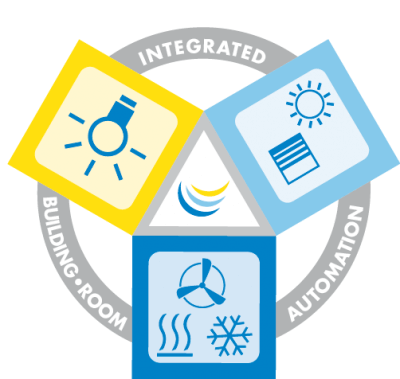 Room automation can be seamlessly integrated into the building automation system.
Fire safety
In the fire safety view, the current occupancy of all rooms is displayed.
Ceiling temperatures and air quality values are continuously recorded, monitored and displayed in the floor plan.
In case of an alarm, fire protection and smoke extraction dampers move to their predefined positions.
In the event of fire, blinds are raised automatically to keep escape and rescue routes clear. Thanks to RGB lighting, escape routes are signalled and illuminated in colour.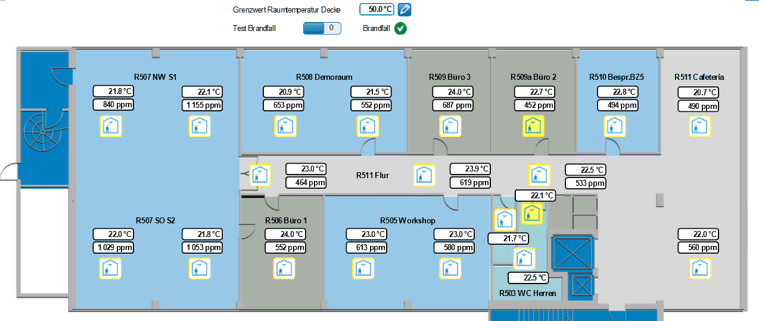 Asset tracking
Asset Tracking prevents theft, loss and damage. Tracking assets with real-time data supports operational processes and contributes to an optimal result.
With the help of IoT sensors, companies can actively track specific information about their assets without human intervention.

Whether you are monitoring medical equipment in hospitals, flip boards in meeting rooms, or cleaning machines in hotels,  geofencing will alert you when anything is outside your custom geofence zones.
Consumables
With the help of IoT sensors the building automation system is able to track consumables, such as soap dispensers and paper towels.

The usage of bathrooms is monitored with vibration sensors on BLE or enOcean. Anonymous tracking allows the cleaning to be managed and respects the privacy of employees and guests.
Indoor Navigation
Indoor navigation guides employees and visitors to the correct meeting rooms.
The system can keep track of the whereabouts of guests.
In combination with Digital Workspace Management, employees as visitors enjoy a new user experience. Targeted guidance to the reserved rooms, individual room climate and resource-saving operation.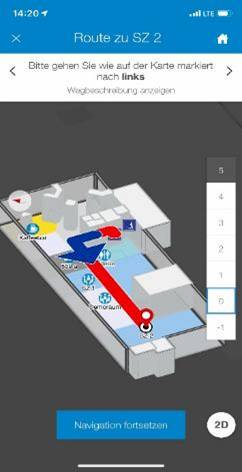 Soft Services
What do facility management and building automation have in common?
Both tasks require efficient networking of a variety of components and services. This saves resources, simplifies decisions and streamlines processes – with more effective overall results than in a heterogeneous landscape.
Cleaning tailored to the usage of offices and work spaces. Because employees expect their workplace to be clean.

Cleaning services including staff management are adapted to visitor frequencies which ensures employees' satisfaction at lower costs.
The cleaning plan is displayed online at the SAUTER Vision Center management and operating level and serves as the basis for documentation and invoicing of the services purchased.
Security guarding
«Find your colleague»
In the modern workplace, everything is interconnected and constantly networked through internet. Employees work just as efficiently from outside the company as from inside. They simply access data and applications.
Apps on smartphones allow the creation of smart virtual teams. Thanks to the integration into the building automation system and the connection with indoor navigation, every employee keeps track of the whereabouts and availability of his colleagues.
Team leaders are able to plan their resources efficiently.

Digital Workplace Management 
The workplace of the future integrates new digital technologies:
Integration of the room booking system into the building automation: The rooms are specifically conditioned for their next use. Unused rooms are put into energy-saving stand-by mode.

Flexible room layout with SAUTER 1+1=1
The areas can be adapted to a new use by partition walls. The building automation system reacts to the changed configuration without reprogramming and ensures an individual room climate in all zones.

The user is shown free workplaces in the floor overview on his smartphone. He reserves the desired workplace. The facility manager receives a clear display of the current occupancy rate of the areas managed in the form of a "heat map".

Let yourself be inspired by the possibilities of digitalisation